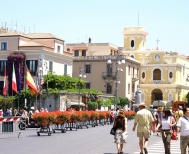 Sorrento Historical Center
Rich in uncontaminated naturalistic beauties, Sorrento offers to its visitors a lively historical center with a lot of historical architectural and religious works to admire.The center of Sorrento winds along the axle delimited from Via Pietà, Via San Cesareo, Via Padre Reginaldo Giuliani and Via Tasso.

Besides a magic atmosphere, narrow lanes full of restaurants and small shops of local craftsmanship, the historical Sorrento center holds Palazzo Veniero, Palazzo Correale with its tiled with majolica dated from 1700 courtyard, the historical seats of Porta and Dominova, place appointed to the Sorrento nobility meetings, and the MuseoBottega of the Wood Inlaying, which keeps the ancienttradition of the Sorrento wood inlay.
Among the religious works to be admired in the Sorrento centre, the Cathedral with its inlaid wooden choir, the St. Antony Basilicaand the St. Francis Complex, of which famous is the Cloister, medieval building with fourteenth-century arcs, where every yearhundreds of Italian and foreigners marriages take place.